Pocatello Amateur Radio Club
Pocatello, Idaho
ocatello Amateur Radio Club, ham radio, Idaho Ham Radio Repeaters, Idaho amateur radio exams, ham radio exams, Idaho Amateur Radio, ham radio Idaho, ARRL ,
If you need information about Ham Radio or our club, contact any Board Member.
see the "Station Index" member roster below.


| | | |
| --- | --- | --- |
| Beverly Hewett | N7WYK | President |
| Moritz Rupert | KJ7DPY | Board Member |
| Willis Whatley | WA5VRL | Board Member |
| Brad Maxwell | N7FLM | Board Member |
| Dave Turnmire | N7TZK | Secretary/Treasure |
| Craig Evans | K4TCO | Vice President |
| Kevin Pendlebury | KI7UKJ | Recording Secretary |


The Pocatello Amateur Radio Club attempts to present timely programs that are intended to broaden the knowledge of our hobby to both those seasoned* hams as well as newer hams
.
bring you questions,
bring your comments,
bring your experiences and knowledge.
See you at a meeting.


Our meetings:
Second Thursday of every months
7pm, ISU, T&T building
see below (news section) for program details


=======================================
TUNE IN
PARC Two Meter NET
Sunday nights 8 pm local
146.82 repeater 100hz
Until further notice.
the PARC 147.36 repeater is non-functional until summer.

===================================
* Definition: "seasoned hams", mostly seasoned with large quantities of salt.. HI HI


What is Ham Radio, it's "way" better than CB or stamp collecting, HR can be a Hi Tech Hobby
How to become a Ham, where to get help
Where to take a TEST in SE Idaho
Other Ham Clubs

around Pocatello

Straight Talk - for

new and old hams
crazy talk by the webmaster that you may or not
agree with. And it's Not necessarily politically correct.
NEW Hams, Must watch video. Ask Dave #12
PARC - community service

ARRL membership/renewal Link

Want to join our Club?

PARC is an equal opportunity employer

PARC , PO Box 2722, Pocatello, Idaho 83206
Click for testing details

next fall !! no summer tests
ALL info is on the testing page

Click for Club Contact INFO

PARC CLUB ROSTER

The FCC ULS
system is TOTALLY confusing to me
and impossible to navigate..
The Webmaster has written, in English,
easy (?) to follow instructions for::
RENEW, GET A COPY , or UPDATE
your ham license
LINK

PARC Picture Gallery

---

OLD




But

Not So Cold
PARC NEWS

Time in UTC:

internet Links of interest

In the area just below, you will find the latest news
and information from PARC, it is updated often..
Most information won't last more that a month
There is no COLD information below, .
Next PARC meeting
June 9..
the next program is building some directional antennas for the
September meetings Transmitter Hunting exercise.
SEE MORE info DOWN THE PAGE


===================================


Starting around 10AM Saturday,
for antenna setup and getting ready.
Location: Heritage Park..

We are getting ready for Field Day on June 25th: Dick Thomas [WA7VKE] has volunteered to organize the dinner. The club will provide fried chicken. The club will also provide the paper goods [plates, eating utensils, napkins, and garbage bags]. We are asking for everyone to bring a salad, sidedish, or dessert to share. And please BYOD [bring your own drink]!


Since the club is providing the meat there IS a signup sheet ... see below

we want to get enough chicken.. BUT not too much.

At the May meeting we had

a lot of

folks sign up for the dinner.. (see below)

We need to know if you are coming. YES WE DO!

Please, if you did NOT sign up at the meeting,

either call Dick or email him,,

This is important.

also, IF you've signed up, and your plans change,

please email Dick..

208#/709-6006/\

richarddavidthomas407((at))gmail.com

so far

Rhett ND7O - 2

Neil W7NJM - 2

K7OKG & KG7IZF -2?

Marty KA7OUT -6?

Craig K4TCO -2

Scott KJ7CZY - 2?

Doyle KC7LCQ -2 ?

Beverly & Elborn - 2

Kenyon KG7IDY -1

Mike WB7DNU -2

Jim KO7P -2?

Dave N7TZK -1

Frymire's KM5F -2?

Bill KI6HOG -2?

John kØip -2

Dick WA7VKE -2

KR7W & WT7N -2

I see some question marks, you need to confirm

FIELD DAY is about 4 weeks away, we have time.
See Field Day DOWN THE PAGE, below the
Fox hunting section..
Operational plans: we will have our tower trailer
and a 3 band beam. WE are still looking for a
location.. So how many trees or other structures
that dipoles can be attached to is UNKNOWN at
this time.
IF you want to bring your equipment and try it out
including portable antennas, radios, etc, Please make your
intentions known to k0ip at wa0dyu@gmail.com.

we are open to any ideas.

PAST FIELD DAY



A Blast from the past ?? made in the USA ,
here's a link to PAST blast's"

National NCX-3

Modes: SSB/AM/CW
Bands: 80, 40, 20 Meters Only 3 bands
Input Power: 200W PEP-SSB, 100W-AM, 180W-CW
Filter: Crystal
Receiver Incremental Tuning (RIT): No
Noise Blanker: No
VOX: Yes
Power Supply: Separate AC & DC Supplies
Final Tube(s): 2ea. 6GJ5
Price/Year: $369/

1963

, 2022 $3,490 power supply was extra
Size: 6.0"h x 13.75"w x 11.75"d
Approx. Weight: 22 lbs

When I was first a ham, the radio club I belonged to bought
one of these for the club shack at the Red Cross Building,
Mission, KS


=============================================================


===================================
upcoming ham events.
====================================

SeaPac:
The NorthWest's Largest Convention,
June 3-5 2022,
"On the beautiful Pacific Ocean Beach"


This is a great convention to go to! Lots to do
and see. Here is a link for more information:


https://www.seapac.org/ ====================================
Rupert
13th Annual Tailgate Swap (FREE) I like free...
A bit in the future, like several months,,,
some years its a great event,
others a bit IFFY, BUT if you show up it will be
another Great One,,,,,

I've been told a fellow with

TONS of stuff will be there..


Saturday , August 20, 2022 ( Like this year)
Starts at 9 am.. to 1 pm..
Minidoka County Fairgrounds
085 East Baseline Rd Hightway 25
Rupert


FD DINNER

September PARC Meeting will be a fox hunt
Here is a brief description of what a fox hunt is and how it works,
Further down the page will be a link to download the complete article written by PARC member KR7W,
it includes detailed instructions, parts list, etc There is also a link to buy an Offset attenuator , its cheap.


The June Meeting (June 9) will be the construction and testing of the antennas.
everyone need to get a JUMP on this , "that is" get started collecting parts. Note: the club will have RG-58
coax on had at the meeting, plus Tools, Soldering equipment

============================================================================

Amateur Radio Direction Finding, also known as Fox Hunting, Bunny Hunting,
and Hidden T Hunting– ... is an interesting and fun radio activity.
A ham license is not needed to participate in finding hidden transmitters.

There are two types of Fox hunts– 'Mobile' where hunters use a vehicle to hunt within a large area
and 'On Foot' where hunters walk or run to find the transmitter.

ARDF uses two frequency bands: 80 Meters and 2 Meters. The most popular band is 2 meters.
PARC will be using 2 meters, On Foot.






ARDF has 4 main components:

The Hidden Transmitter– The Fox—Usually a Handy Talky being controlled by a timer
that automatically turns the transmitter ON for a set time, then OFF for a set time– then
repeats. The Timer/Controller also sends it's call sign– usually in Morse Code. The Flag,
next to the transmitter, in the above diagram is what the Hunter is hunting for.

The Directional Antenna- almost always is a lightweight hand held Yagi. The most
popular Yagi used is: The Tape Measure Yagi. The flexible tape measure elements
make it easy for the hunter to push through brush or bushes to find the Fox.

An Attenuator– to lower the signal level of the Hidden Transmitter when the hunter
gets within close range. Without the attenuator– the hunter's handy talky will be over-
loaded and the Signal Strength Meter will always be at MAX. The Attenuator lowers the
Fox's received signal level to an amount where the S-meter will be useful for the hunter
to determine the Fox's direction.

A popular attenuator is the Active Attenuator. This gizmo has electronics that shift the
Fox's received signals frequency in order for the user to lower the signal level- with a
knob– like a volume control. The goal is to keep the Fox's signal level within the range
of the handy talkies S-meter.

The Hunter's Handy Talky- Used in conjunction with the Directional Yagi Antenna and
Active Attenuator– using the S-meter to receive and determine the direction of the Fox's
signal.

More details of the 4 ARDF components and how to create your own Tape Measure Yagi
and Attenuator follows:

========================================================================================================================
ANTENNA PLANS:

Click Here for Complete info. parts list, instructions, .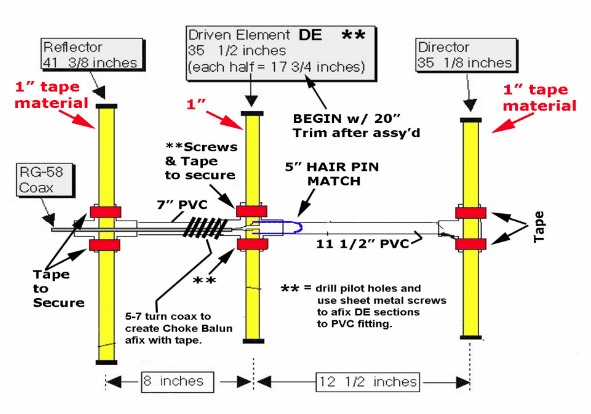 this is the link to the offset Attenuator, Kit or Assembled,, your choice !!

++++++++++FIELD DAY+++++++
++++++++++FIELD DAY+++++++
++++++++++FIELD DAY+++++++
THE BEST THING I CAN PUBLISH ABOUT FD, IS
please attend the June meeting, get all the details, share
what you want to bring or expect. THE JUNE MEETING
JUNE 9... 7pm.. Be There or be SQUARE ???
Hello to all, First , Field Day is open to everyone that is interested it Amateur Radio.
You Do Not need to be a member to attend and operate a radio.

Please, Club members that plan to attend the FD Dinner are requested to inform Dick Thomas WA7VKE of your intentions.
IF YOUR PLANS CHANGE, let Dick know 208#/709-6006/\ richarddavidthomas407((at))gmail.com

Now Radio operations: Number ONE: We are open to any suggestions and ideas.
The location has a few trees, not huge ones, but should be enough to hold up a dipole..
The club will have our tower trailer and a tri-band beam antenna.

We have been told we can run generators, However in my opinion this won't be necessary, we go to Field Day for some fun , NOT to
get points. There is Commercial AC Power at the location.

The club will have one radio for SSB contacts. we encourage you to bring your radio's and portable antennas to 'show off'" and
operate with. We have two CW operators in our club, they will be happy to give demo's and talk about contesting..

IMPORTANT,, the next meeting is ONLY 2 weeks before FieldDay (June 25) so be at the meeting with your Ideas and Suggestions.
and to get the ''SCOOP"
Callsign look ups:
Need to find out where someone lives, sending a QSL card ?
* QRZ.com
* HAMQTH

**The University of Arkansas ham lookup
DX SPOTS & more
*DX Sherlock Maps - current band conditions 10 , 6 & 2 meter
*DX Summit - http://new.dxsummit.fi/#/ SPOTS
*DX Watch - http://www.dxwatch.com/ SPOTS
*APRS NETWORK DATA Two meter propagation map
*Check YOUR Propagation use the Reverse Beacon Network
this link shows W1AW, to change to your call , just above the list
see "search spots by callsign" , then to see the map display,,
on the right top side of the page , click "options" show/hide go down
just a bit and click show map. Why does this need to be so complex
These ARRL newsletters are update often !
click the link, pick the latest edition at the top of the list

ARRL NEWS General Ham News. http://www.arrl.org/arrlletter
ARRL Contest Newsletter http://www.arrl.org/contest-update-issues
ARRL ARES E-Letter http://www.arrl.org/ares-el
if your main interest is emergency communications
you should check into PV-ARES web.
ARRL "The Doctors in" https://www.blubrry.com/arrl_the_doctor_is_in/ The Dr's in Audio podcasts, worth checking out, a new topic is covered
every 2 weeks, this link takes you to the topic index
Want to find out what's coming in the next few weeks, check here
Link







PARC LOGO GEAR ,
like Hats, T-shirts, Jackets, etc, available from
Old Town Embroidery, call 234-2679



Anderson Power Poles are available from our club treasure

Here's a video link about the Power Pole connectors LINK
you do not need a crimper, several club members will loan theirs
to you or crimp the cables for you at a club meeting

The Club has purchased a quantity of these Anderson Power Pole's. They are available at the meeting for $1.25 a set for the 15, 30 amp varieties & $2.25 for the 45amp units. contact the treasure at the meetings.

.


To all new hams


We encourage you to at least join the ARRL for one year,
give it a try,
you will be receive QST magazine which will exposed you to many facets of our hobby.

After a year, If its just not your thing, drop out.
Its simple, but give it a try.

ARRL membership/renewal Link
;
Safety is No Accident
Think before you act !
Be Careful, we want you alive !
Here's some surprising facts about FIRE

make sure you have operating smoke detectors
preferably at least one on each floor of your home .
More is Better !!

THESE DEVICES SAVE LIVES !

FYI:
This test Pattern has circles, not ovals, if you see ovals, chances are your windows settings are incorrect for your monitor.

PLUS: if you have a gas furnace , hot water heater,
fireplace insert, anything that uses combustion
you need a CO detector

Pocatello Amateur Radio Club, Pocatello Idaho USA
if you have ideas, corrections, anything to make this web
or our club better , email me- wa0dyu(at)gmail.com
here's a link to the webmasters "Ham History" web