OLD (but not cold) NEWS,


There's lots of old news down the page, take a look

Getting ready for the Idaho QSO Party,, PARC members --- 2023

W7EKG, KA7MLM, N7WYK, WB7DNU, WA5VRL, KØIP
click here for another picture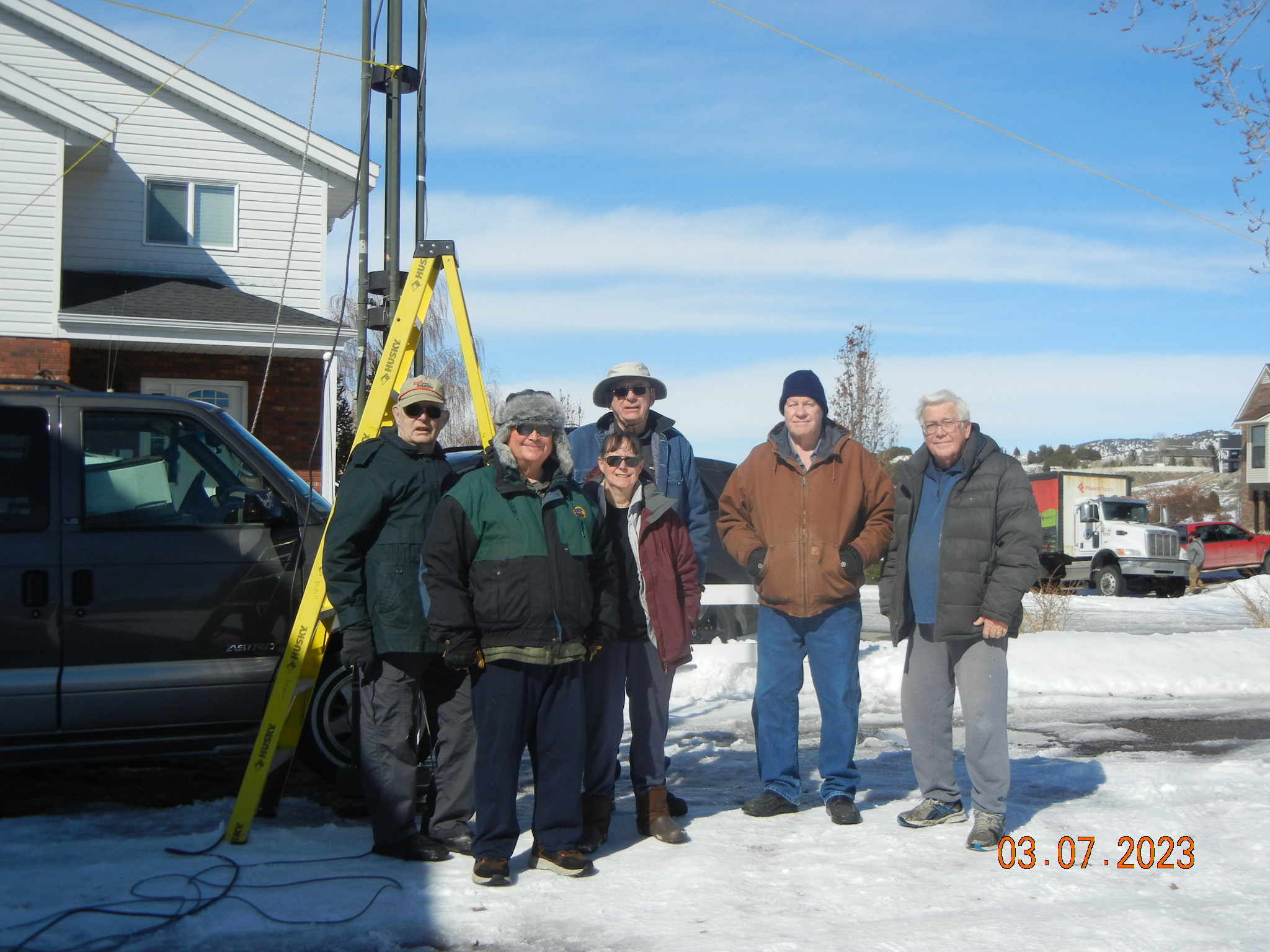 Taking down KI7PK's (SK) antenna 16 and Center street Pocatello 2019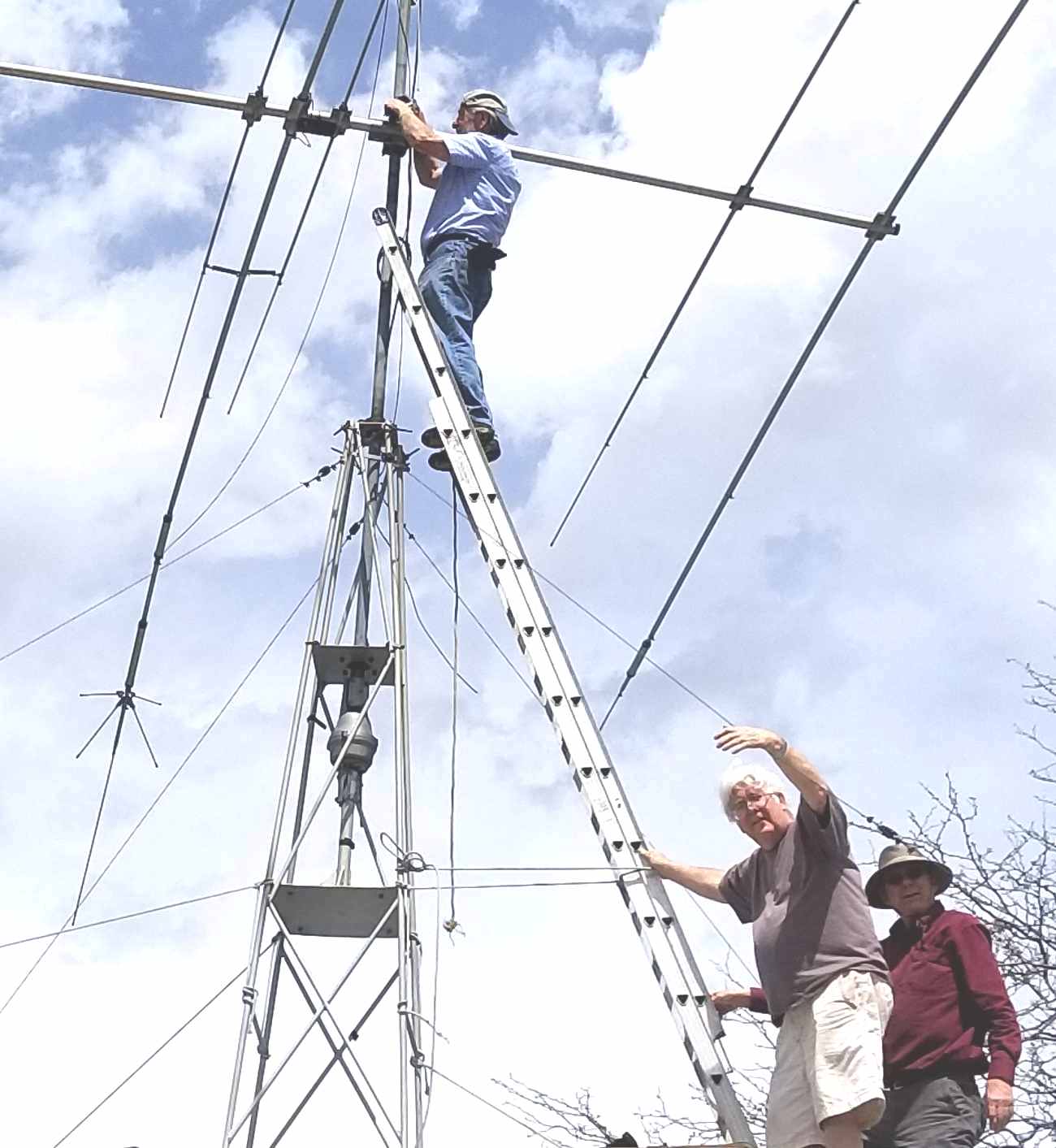 =============================================================================================================================
New "home made" antenna installed on the tower by k9gp, antenna made by k0ip & ac7li AUG 2014
UPDATE Summer 2020, this antenna failed , why ??
caused crackling sound in the receiver ,,, REPLACED


W1AW Story
W1AW in Idaho - by John Wilson KØIP - please pardon my English and grammar,

Some of the newer hams may have never heard of W1AW, which is a pity. W1AW is the flagship call of the ARRL in Newington CT,
W1AW is usually operated from Newington and provides all kinds of ham related services, like Code (CW) Practice as various speeds,
radio teletype bulletins with news about what's going on in the Ham Radio world.
I'm going to use this story to do a little advertising for the ARRL, I believe all new hams should join the ARRL ! Join for a year, learn
about our (your) hobby, Get a bigger picture ! Read QST articles and editorials, you will find a big hobby with almost unlimited possibilities.
If after a year you don't feel its worth the investment, drop your membership. But give it a try for one year. Join the ARRL Click here

Anyway
So why was W1AW in Idaho, this year the call is being activated in all 50 states to celebrating the ARRL 100th anniversary .
In Idaho a team was assembled to make as many contacts (QSO's) as possible using W1AW during our week in the spotlight.
Idaho's team leader attempted to recruit stations that participate in contests, and especially the Idaho QSO Party. During the past several
years a loosely organized group calling themselves the Idaho Potato Contest Group has racked up very high scores during the IDQP. The
IPCG operates from my QTH. So it was no surprise when I was ask if we could operate on 20 meter SSB, I ask for more 15 and 10 meters.
after some discussions, I was assigned 20 & 15 meters SSB,, other stations in the state were given RTTY, and CW assignments on those bands.
Two fellows up north, were given 10 Meter SSB BUT, they were both unavailable during the weekend. SO our friend KG7E Jim in Mackay
took the 10 M SSB spot for the weekend and decided he would join forces at my QTH for the IDQP..

Lucky for me, I have two towers with BIG antennas, a 20 meter monoband beam on one, and a tri-band beam
on the other, BUT to run 3 bands at once we needed another antenna for 10 meters, the solution was Elborn's tower trailer, and
a 4 element monoband beam for 10 meters. Several fellows loaned radios for the effort, I have enough old computers , we installed
N1MM contest logging software, networked all the computer, and we were ready to go! NO, Almost Ready , I still
needed the most important piece of the system, OPERATORS, and lucky many folks from PARC stepped up and helped, see their pictures
below. Some made more contacts than others but everyone helped.. it all worked out, we made over 8880 contact (QSO's) during
our week. In actual face, it was over 9000 Q's. One interesting stat, for one 10 minute period when all three stations
were "scorching the earth" we worked over 100 stations, that's in 10 minutes..

I have probably said enough about the operation here in town but not to be left out, PARC member K7CF Mike down in McCammon
was assigned 80 meter SSB & CW for the first week . He made all his contacts single handedly ,, by himself,
and did a heck of a job at it, over 2462 Q's. During the second week we could pick our bands and modes, Mike turned in another 5874 Q's
for a two week total of 8336, he was the state leader..

Here's a group of pictures that tell the story.

Living Proof, Real Hams join clubs
These are PARC members that made the W1AW Idaho operation a success
you can CLICK any picture below to BLOW it UP ! !
Total PARC member QSO's , a staggering 20405 QSO's, WOW ! Holly Cow ! ETC !
the entire state turn out 74202 Q's so parc members made about 28% of the contacts
see the green boxes just below for kØip and k7cf for their station totals
These green boxes are for the FIRST WEEK only




Please see YEAR totals at the bottom of this section of the old news .. K7CF was the #1 producer of QSO's in the state, followed by KØIP
Jim was a PARC member several years ago, but after making several trips to attend our meetings, he decided 200 miles round trips from Mackay was a bit
too much fun.


Stats for the

entire state of idaho FIRST WEEK



The 20 meter radio, a Icom IC-7600 - Dentron MLA-2500 running about 1KW to a 4 element mono-band beam at 50 Feet. A BIG SIGNAL


The 10 meter Station was KO7P's Icom 756 pro3 and a collins 30L1 amp.
running about 600 watts to a 4 element beam on Elborns tower/trailer in my
front yard. at about 30 feet. ANOTHER BIG SIGNAL

This picture is actually several years old, I forgot to take his picture this year .. my mistake. as they say on TV " file photo "


Please note: the 15 meter station was an all tube radio, a Collins S-Line
made in the 1960's.. 100% made in America !! we used a MLA-2500
amp until I blew it up , and switched to a LK-500ZA using 2x 3-500Z Eimac tubes running at around 1KW to a HyGain TH7DXX beam,
another bone crushing signal.


PARC members on the air as W1AW/7 at KØIP's shack


PARC members on the air as W1AW/7 at KØIP's shack


PARC members on the air as W1AW/7 at KØIP's shack
This should say 15 meters SSB


PARC members on the air as W1AW/7 at KØIP's shack





I hope you enjoyed the pictures and story.
KØIP author of this Story , PARC member since 1979


My apologies to W7RSK & W7MFC, I failed to get their pictures





KO7P on 15 meters.

In the front is the 10 meter beam, behind is the 20 meter beam, at KØIP
The TH7DXX isn't visible in this picture

Here's Mike in McCammon with his 80 and 40 meter directional
array. another earth scorching signal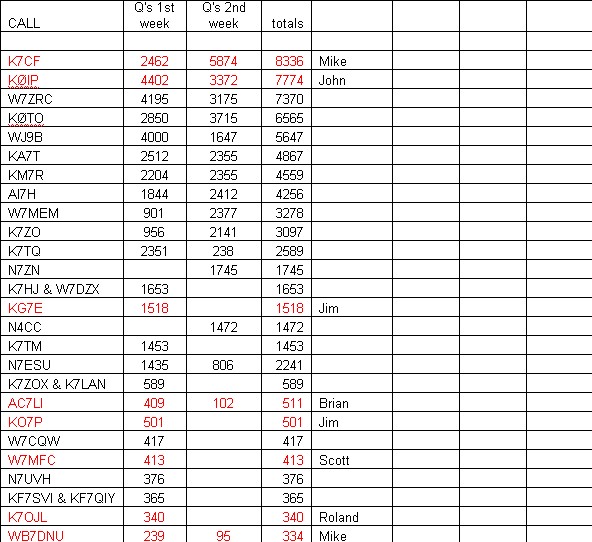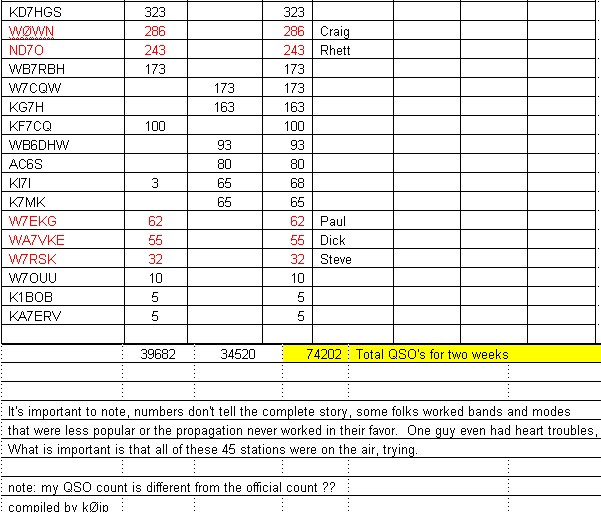 END OF W1AW Story.
---
Roof work (2012) on Kinport Repeater Building ... AD7UI, N7FLM, W7EKG picture by KØIP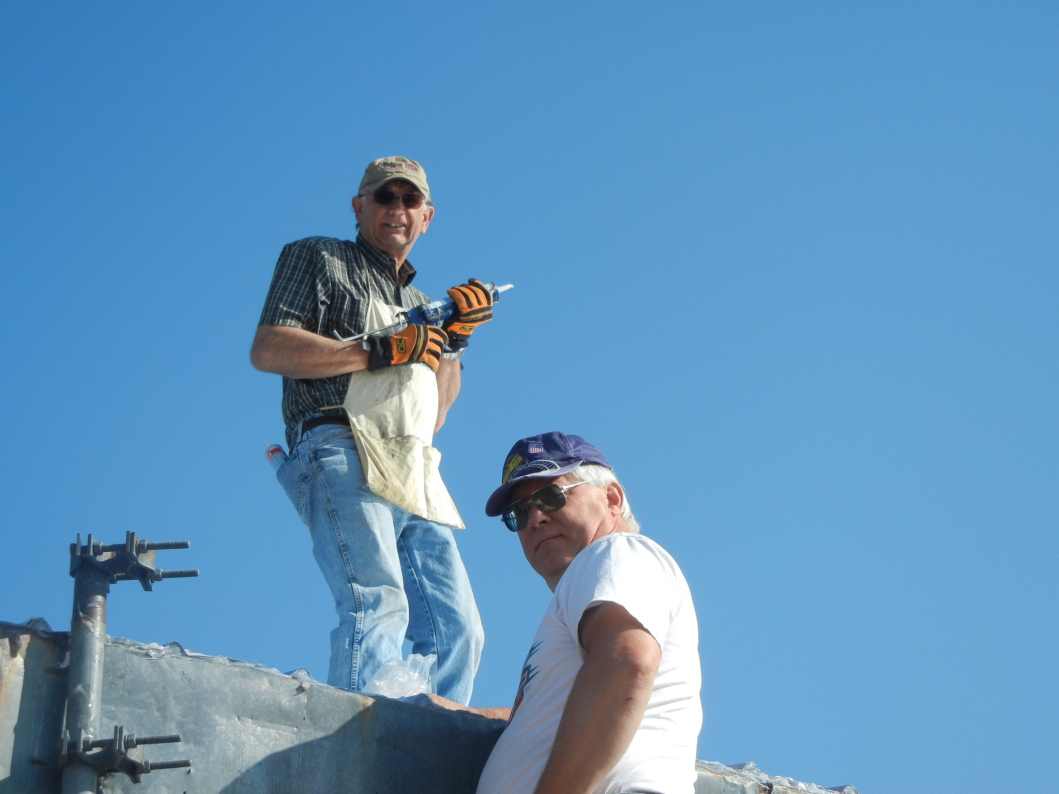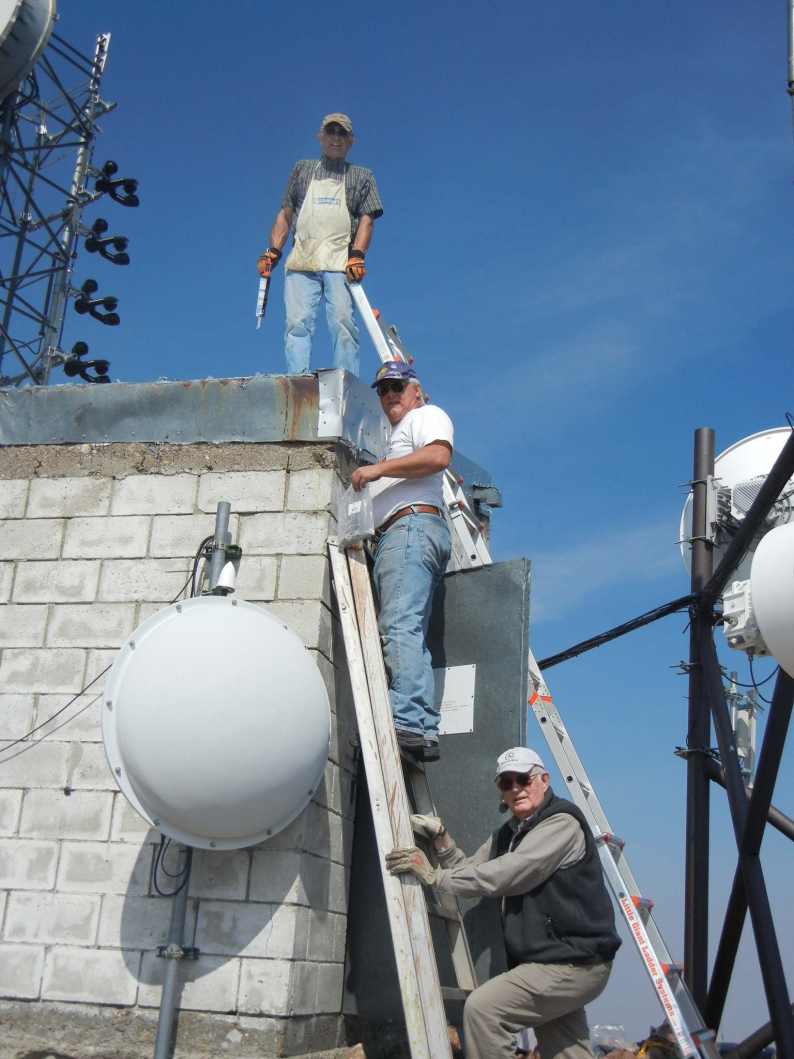 W7EKG, KØIP, AD7UI, N7FLM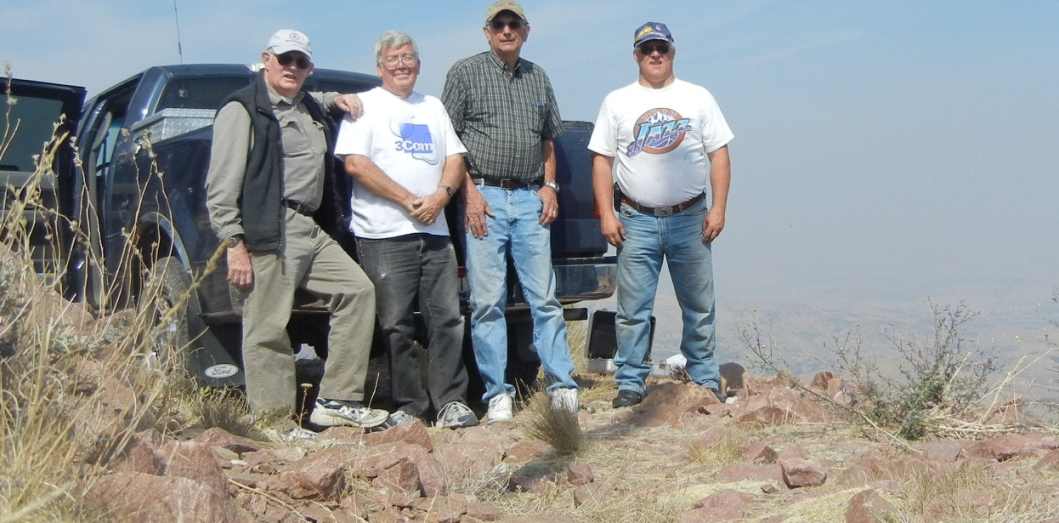 Field Day ,, KO7P - ND7O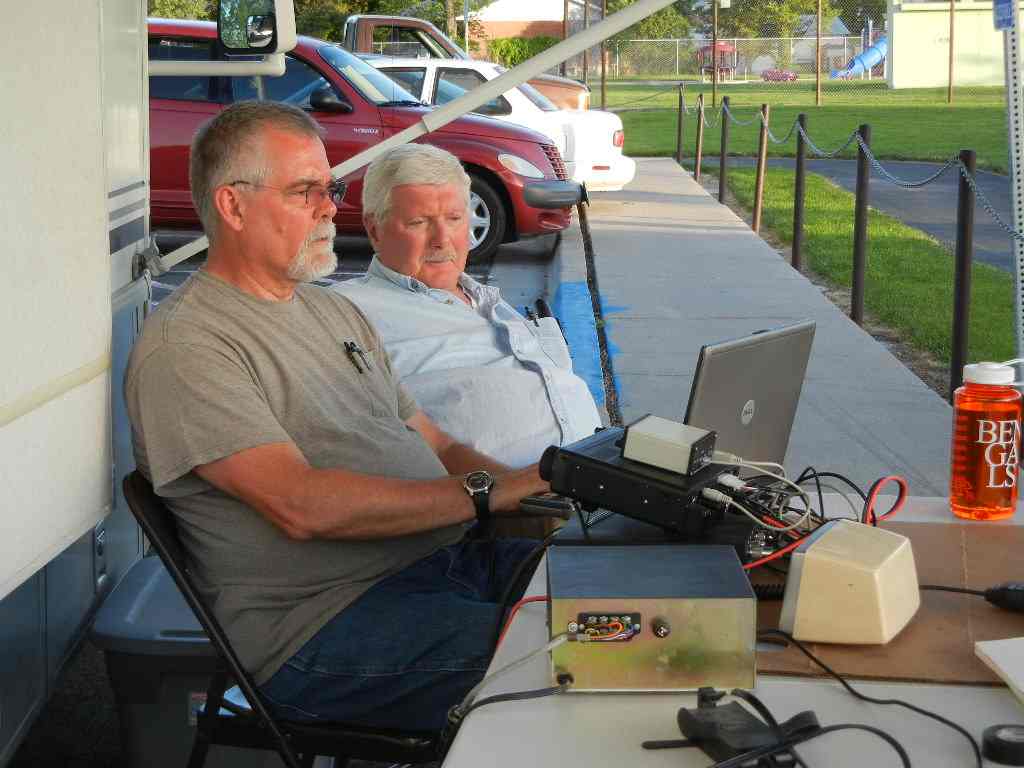 Transmitter hunt 2012 ,,, it was the hottest day of the year, right click any picture to save it to your computer ..


Shack of the month, featured each month on the home page .. 2011
| | | | | |
| --- | --- | --- | --- | --- |
| Shack of the month Feb 2011 | Shack of the month March 2011 | Shack of the month March 2011 | | |
| Shack of the month May 2011 | Shack of the month June 2011 | Shack of the month July 2011 | | |
| shack of the month Aug 2011 | Shack of the month Sept 2011 | Shack of the month Oct 2011 | | |
| Shack of the month Nov 2011 | Shack of the month DEC 2011 | Shack of the month Jan2012 | | |
147.06 repeater duty, Sept

2011,

to get there the road had to be cleared of trees and brush,
KO7P, W7EKG, KØIP,, after two hours of clipping, the fun was gone.. then we clipped some more,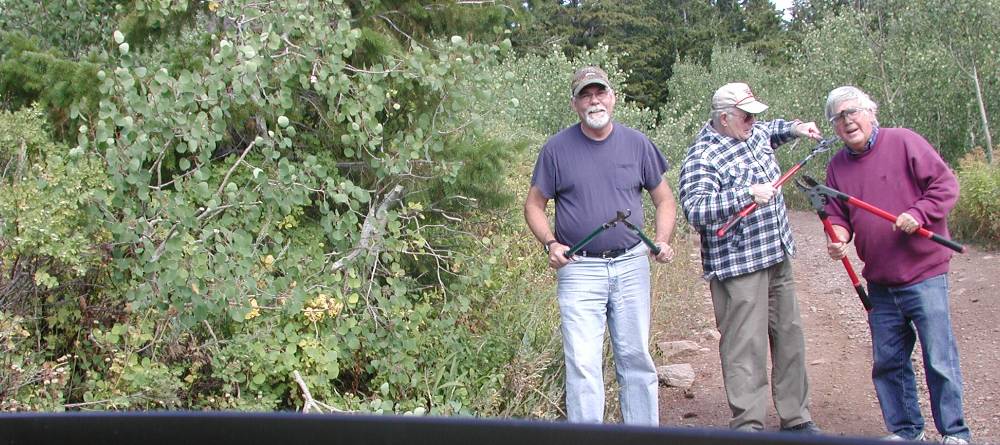 Airport Appreciation Day

2011


KØIP shows off his collection for WW2 Radios and his old time Teletype at
the 2nd annual Pocatello Airport Appreciation Day, which was held along with
Field Day at the Pocatello Airport.
(More Pictures)

click the picture to make it bigger
Here's Roland K7OJL hard at it..

---
Local hams get Idaho QSO Party Award at last club meeting
sorry about that video projector light.
These guys worked 2290 stations for top score ever in the 2011 IDQP !
KØIP, ND7O, W7EKG, KO7P, N7RYN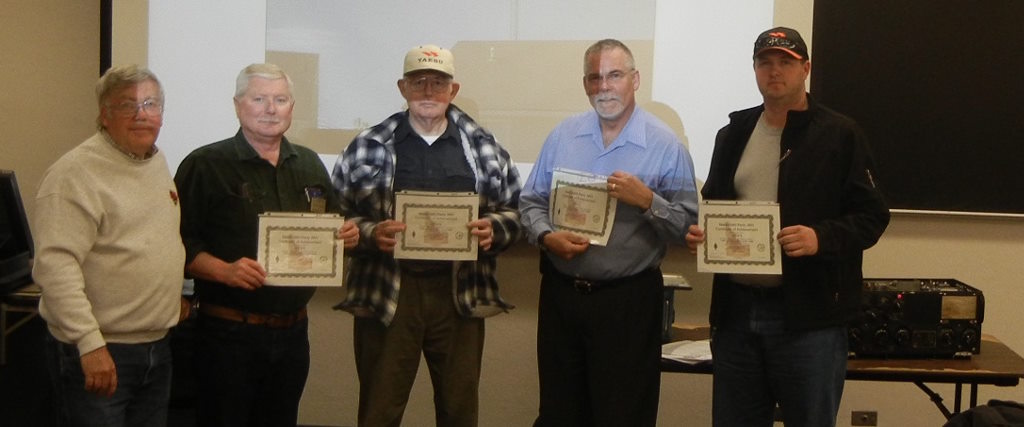 Click the picture to make it bigger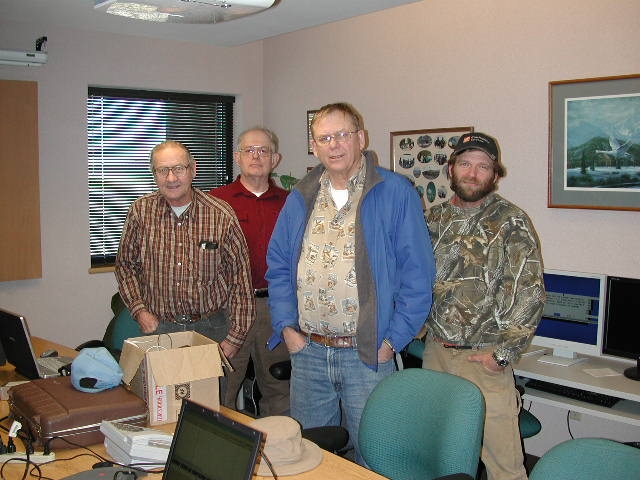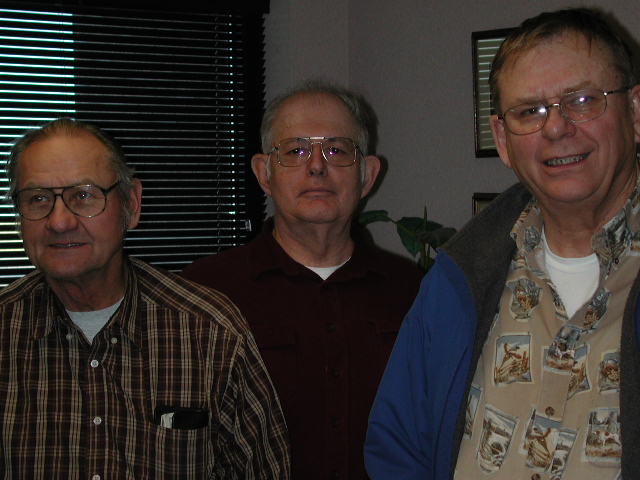 Antenna crew for Skywarn 2009, KK7AT, W7EKG, WB7DNU, K7GIB

Pictures from the FREE swap meet Aug 22, 2009, Burley Idaho
it was a very successful event . lots of goodies changed hands.

Here is ND7O Rhett, K7EKG Paul, and AD7UI Gregg,

Adron KB7UIK, Don K7DRF (sk)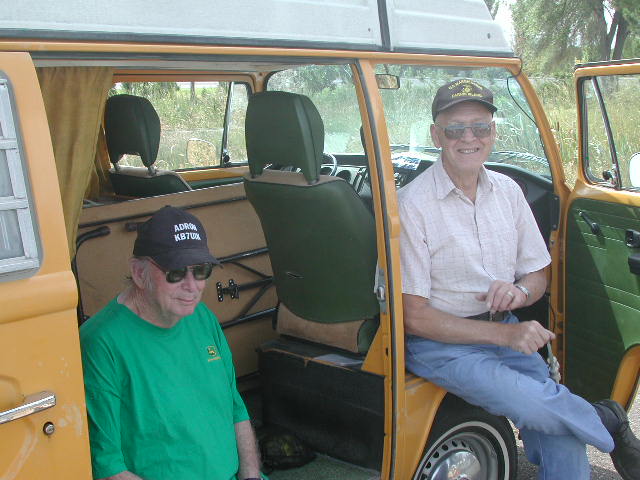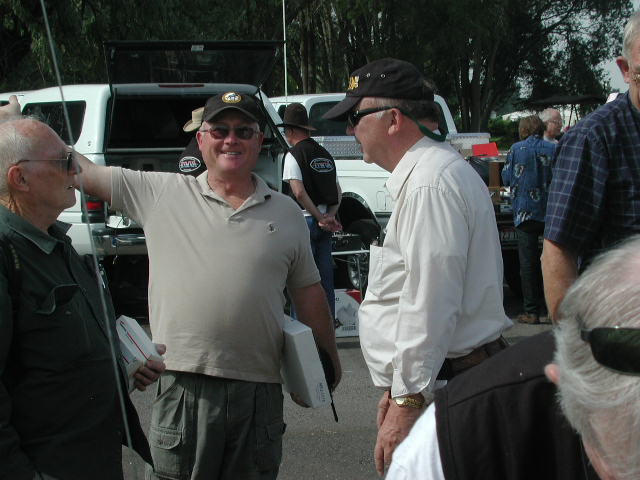 HDTV MADNESS. ARE YOU READY..
as you should know on 17 Feb this year (2009) .. it's been extended to June.. you still have time
HD will be the ONLY transmission mode for HIGH POWER TV Stations.
(for now this does not include low power translator stations)
In Pocatello here is the channel lineup when the switch-over happens
old channel 3 is actually transmitting on channel 36
old channel 6 is actually transmitting on channel 23
old channel 8 Stays on channel 8 and Pocatello translator on 21
old channel 10 is actually transmitting on channel 17
old channel fox is actually transmitting on channel 31

Due to an imbedded signal called
Program and System Information Protocol
Your TV, will still display the old channel number.
this is something called "channel branding" , ie
KPVI News 6 doesn't want to be KPVI news 23

So if you decide to install an outside antenna for your new
HD TV set, don't invest in one of those expensive monster VHF - UHF antennas , a "UHF only" should work just fine, at most in town locations..
I am talking about IN Pocatello only.
fun at the swap meet Aug 2008

| | |
| --- | --- |
| W7RSK | N7LB(sk) |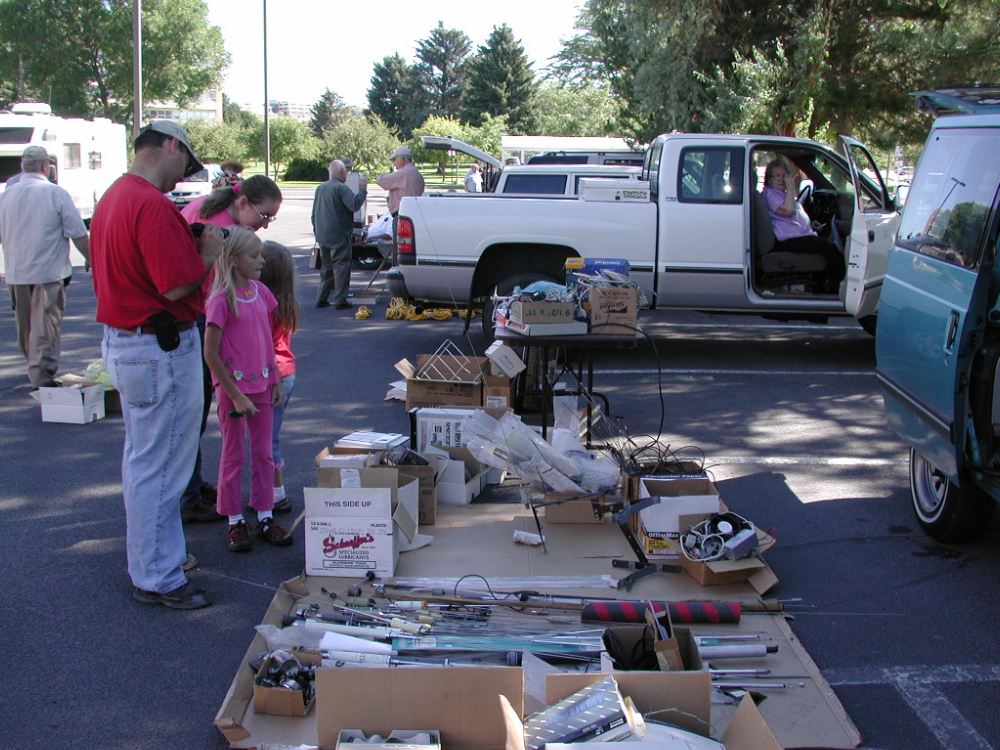 want more pictures LINK

Sporadic E ??????????
The Spring/Summer E-layer propagation season is beginning, or should be here very soon.
In general, sun spot's have little to no effect on Sporadic E skip. This means that 10 meters, and 6 meters will be open.
Typically between 500 and 1300 miles. AND you never know when double hop might occur.
If you operate on 6 meters, you should know your grid square. You can find it by checking your info at QRZ.com.
And speaking of QRZ.com, you might want to update your Email and Bio.
To get in on the E skip, you need to leave your radio ON, and turned up.
E skip is "Fickled" propagation, you never know when it will happen, any time(?) but mostly in the afternoon to early evening.
On ten meters, it would be best to scan from (say) 28.450mHz to 28.500 mHz. and on 6 meters either
listen to 50.125mHz ( the national SSB calling Freq) or scan from 50.125 to 50.150 if the band opens
you will hear signals in those windows. REMEMBER if you just walk into ur shack and flip on the radio,
take a quick listen up and down the band, chances are you missed it.

TURN UR RADIO ON, enjoy the openings.!
I built this one, and it seems to work good !! seen here on my van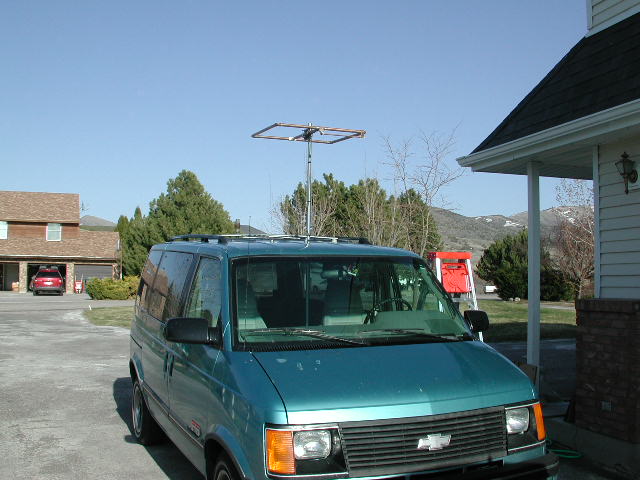 Links for three different antennas that will get you on 6 meters with style !!!
Link one copper

Link two aluminum

Link three this & that
see the links for simple to build antennas, get on the air and love it..