Pocatello Repeater page

All repeaters in Pocatello are open for general use. There are three mountain top
repeaters that over look Pocatello. 2 are PARC radios, one is LDS. Again all are open.
for more detailed information about the PARC repeaters look down this page

PARC 147.360mHz Repeater (Kinport)N7PI/r 100hz PL - repeater WITH 10 Meter Link. see write up below under 147.36
PARC 442.100 mHz Repeater(Kinport) N7PI 107.2Hz PL
PARC 147.060mhz Repeater (Scout) N7PI/r 100hz.PL - 100% Solar Powered

PARC APRS -(Kinport)- 144.39mHz - Digital see write up at the bottom of this page

PV-ARES DigiPeater (Kinport), mostly for Winlink comm.. 145.01mHz - Digital see write up at the bottom of this page

LDS 146.82mHz 100Hz PL


this button takes you to the IDAHOARRL web where ACTIVE Idaho repeaters are listed
some repeaters may NOT be on the list, if no one has reported them as on the air and active ??


Also , how about a map see https://lndom.net/rpete/RepeaterDB.php Produced by Lisa AK7WS in Idaho.


A heads up: there are all sorts of web pages listing repeaters, one in particular, the "repeaterbook.com" TOTALLY USELESS !!
in fact most online (out of state) repeater lists are useless.

?? Buying a new radio, things to think about -----> how much memory is TOOO much memory ?? Think, what do you really need and want.
---
---
---
---
---
Pocatello Amateur Radio Club Repeater help page


PARC owns and operates two 2 meter FM voice repeaters,
Kinport and Scout Mt. As well as an APRS digipeater.
heres some pictures and more detailed info about our repeaters,

Getting them built , and up on the mountains is just the beginning, there a lot of maintenance,
antennas break, batteries go dead with age, just paying the rent, putting on a new ROOF !!
This that and the other. It's Not cheap , Please consider joining our club.
---
PARC 147.060mHz Scout Mt. +600kHz Offset, 100Hz PL .
for more pictures 2008 work party or install 2002
Located 14 miles south of the intersection of I-15 and Center street, Exit (69) On the top of Scout Mountain.
It is open to all users, It is solar powered. It has NO function other than a basic voice repeater.
The output power is about 2 watts to the antenna,

PARC Pays the US Forest Service over $120 a year to rent the mountain top location, your club membership is important in keeping this radio on the air
Please : In the WINTER Help conserve battery power, if possible,
use simplex ..or .36 if your not in simplex range, otherwise feel free
to use this repeater.

new batteries were installed Sept 2018
It is a GE Master Executive II , installed 2002
repeater built by KØIP,
New antenna 2014
K9GP, AC7LI, KØIP , antenna built by AC7LI & KØIP
installed on tower by K9GP

HOWEVER as of summer of 2020 this antenna failed < OUCH > see loop antenna below
Homebrewed Talking controller, QST project Feb 1997 issue (?) Cavities and charge controller inside shelter.
Talking controller built by Cindy KI7SG, the talker is the green board on
the bottom (center),, Cindy was about 17 years old when she made this.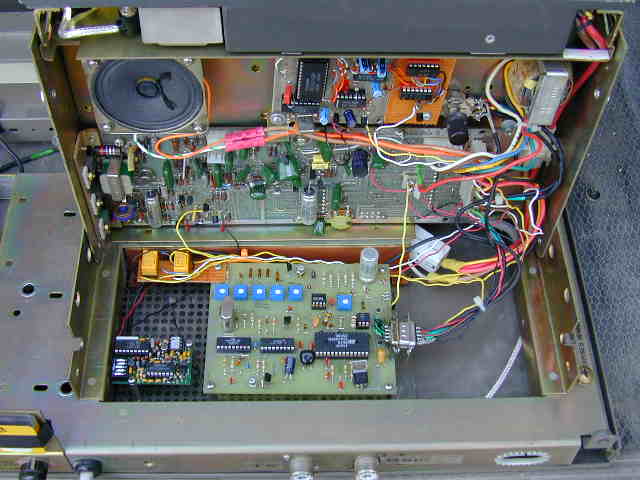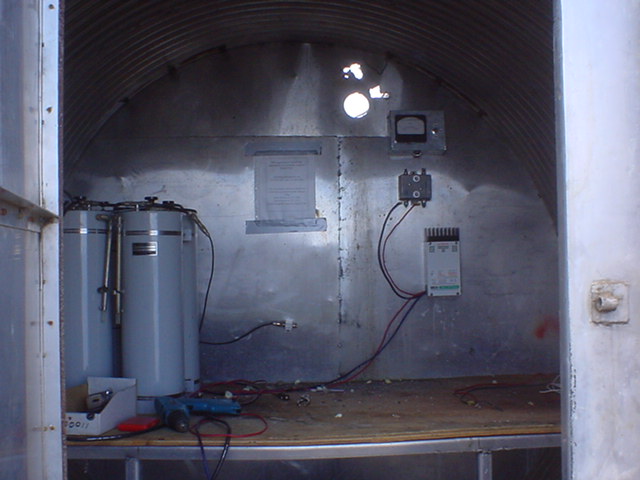 -----------------------------------------------------------------------------------------------------------
this is the temporary antenna on the 06 will need to be fixed in 2021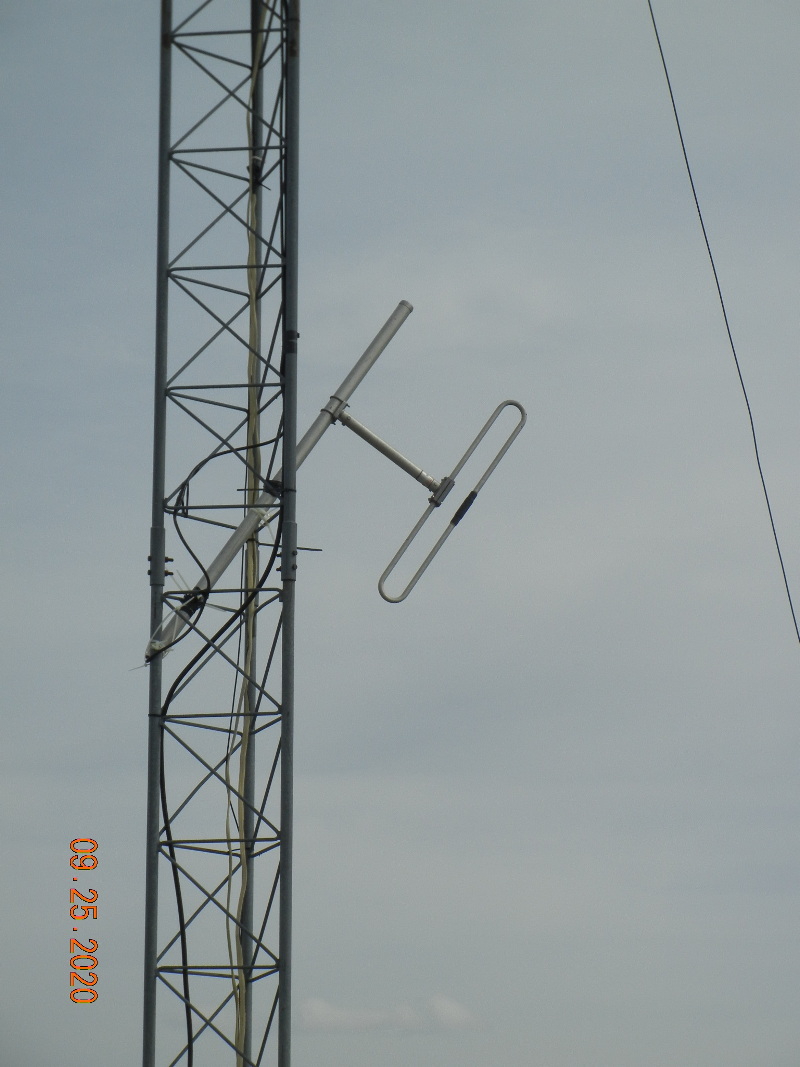 Before the second set of solar panels were installed
Glen K9GP getting ready to install ,

Solar array for charging the batteries, There is NO commercial power on Scout Mt. This Repeater is 100% Solar Powered......
The top two panels were on site when we moved in.
Bottom two panels donated by KØIP. bracket/frame to hold panels made by and installed by K9GP, a big job !


END END END of 06 information
---
147.360mHz N7PI /R repeater - Kinport (parc home page Link)
& the APRS digi-peater on 144.39


Mt. Kinport located 4.5 miles SW of down town Pocatello, it's at 7200 feet.
It operates on 147.360 +600kHz offset ... 100Hz Pl required


This repeater does have a special function , that being a 10 meter link, to 29.600 mhz FM about 50 watts out to a vertical dipole nailed to a telephone pole

EVERYONE can use this link , you are being extended the clubs privileges ,, 29.6 is the only 10 meter FM simplex frequency, it can skip around the world.
press 010 touchtone to turn it on , and 000 to turn it off .
suggestion, turn it on and call cq, 10 meters is dead most of the time, BUT the sunspots are on the rise, and you never know who you might be talking with,
you new guys, don't freeze up,, Tell them you name, your location Pocatello IDAHO if their in Japan they don't know where Pocatello is ..
get their info,,, comment about how good or bad the signal is, keep it short, the propagation changes fast on 10 meters...

Who paid for a new roof, we did, your dues did,
here's AD7UI, N7FLM, W7EKG 2012 installing a new roof The APRS will remain in this building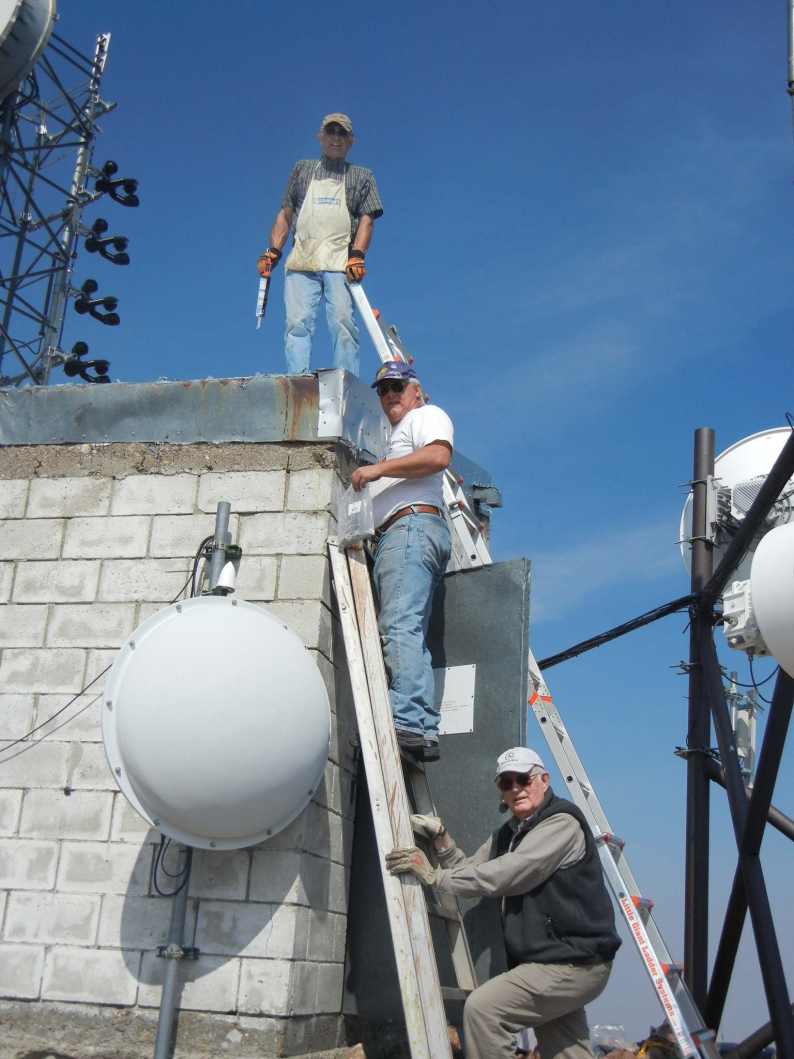 In 2019 we moved to a new building In 2020 we repaired the roof, repeater had many problems, here's our clubs youngest member helping out
--our two meter antenna is on the center telephone pole- KJ7KPP looking a little lost !!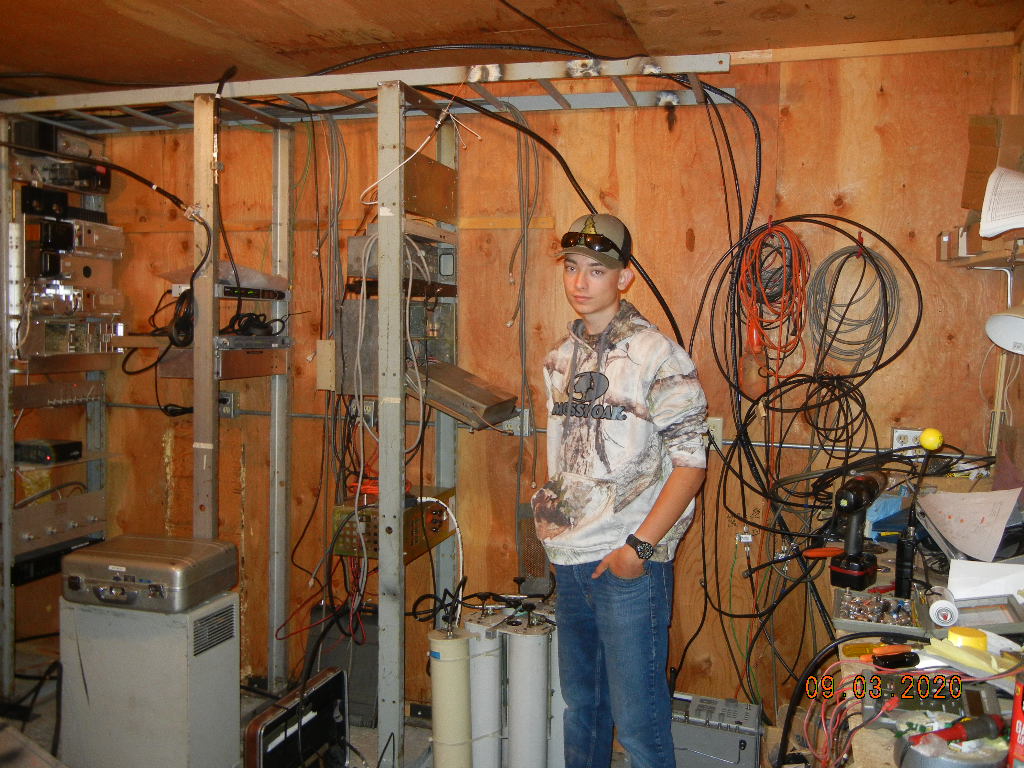 N7FLM and N7TZK working the tar gun's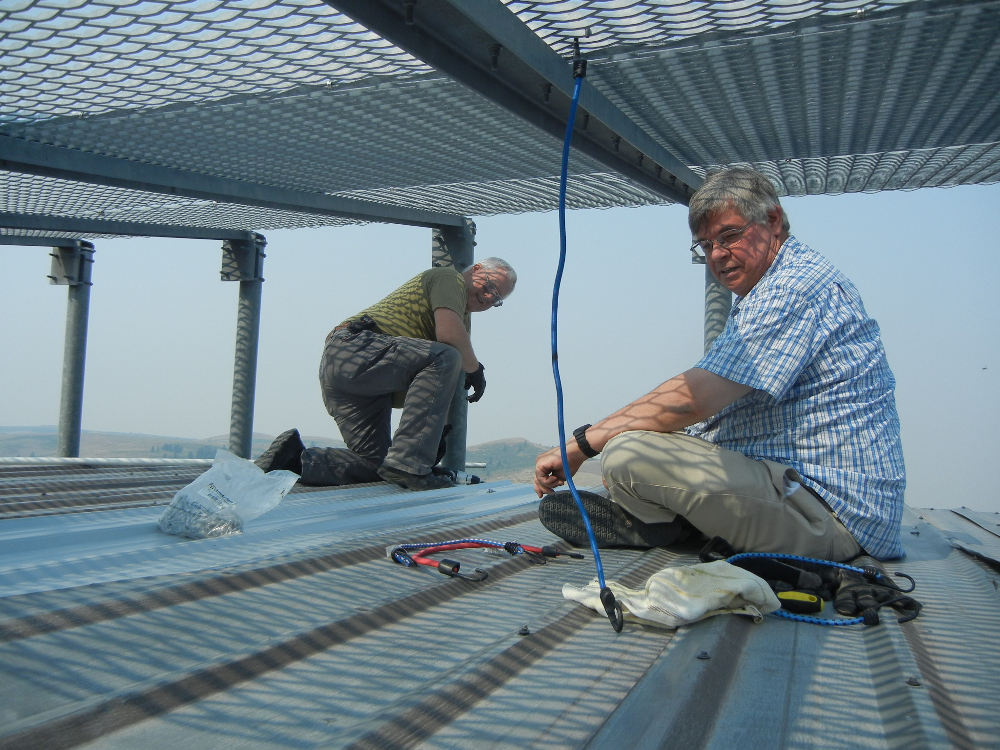 more pictures at https://photos.google.com/share/AF1QipMqoz7H5eHFGGgnfXlAalBHmD-w17mxY0UGoA2fLEzUyxZksPrOM654DYEe4JxqaA?key=Q0JJblluWVMxdl9lekFPNmo0UVV1Wk00Nk5iRS1n
or
https://photos.google.com/share/AF1QipP30HacBGfGxvCAKDf7Svb_pPdqqNKC9oi9E5bAWJCjQCKdcvkJeX8dXxYNPpFVsw?key=WThEcWhtZ1poNXZ2MENxQzQ5MVNEcjFLamVxN0hR
---
A BIT OF HISTORY
The PARC 06 repeater was originally installed on Mt Kinport in 1976, in a building
that was eventually bulldozed about 25 years ago, we were ask to move into a building that was
at that time owned by the cable TV company.

how many repeaters do you think were in Idaho in 1977 ?

Pocatello must have missed the cut off date for publication of this book.
click the cover picture for the answer ...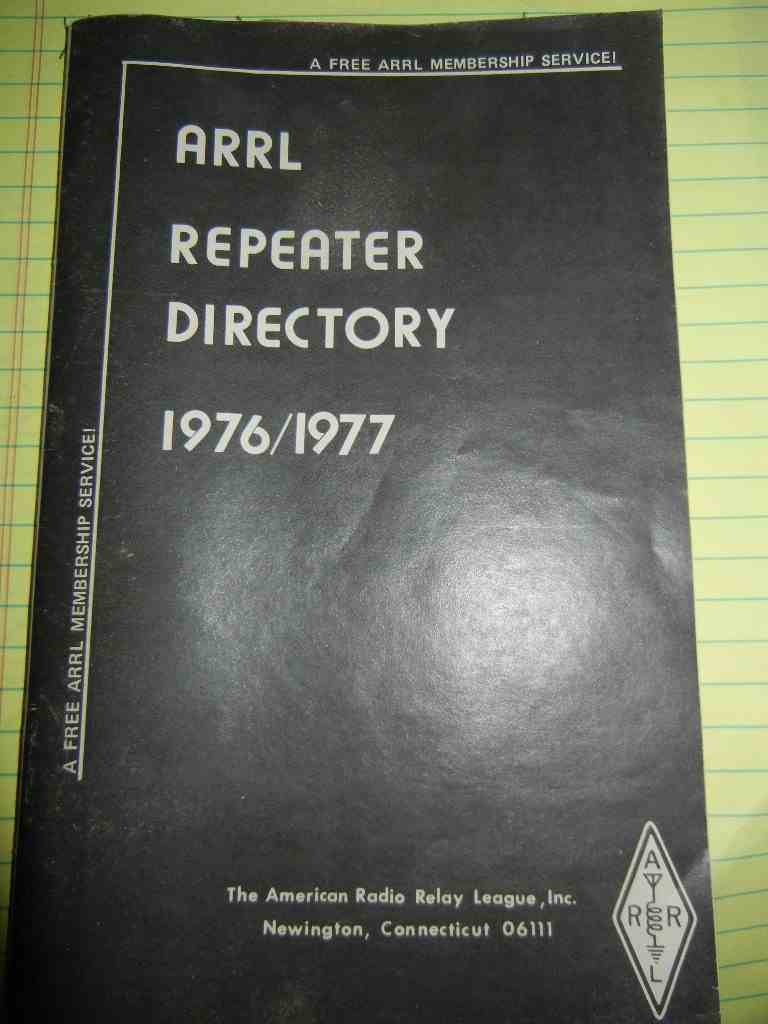 ++++++++++++++++++++++++++++++++++++++++++++++++++++++++++++++++++++++++++++++++++++++++++++++++++++++++++++++++++++++++++++
aprs and winlink help

Repeater News, Digital Repeaters now operational

Besides the 147.360 repeater on Kinport Peak, we now have two packet radio systems up there.
Both systems use a Kantronics KPC-3 TNC connected to an Alinco DR-135 two meter radio running at 20 watts.

One of the systems is operating on the common APRS frequency of 144.390 MHz.
It operates as KINPRT using the base callsign of N7PI to relay APRS data.
It also announces information about the 147.360 repeater as well as the PVARES and PARC meetings.
If you don't have a TNC, just download "soundmodem114.zip" from the internet (http://uz7.ho.ua/packetradio.htm).
Soundmodem114 is a software TNC that can receive and transmit packets using a radio-to-computer interface such as the SignaLink USB product.
Many operators use that configuration along with a mapping program like APRSIS32 to display the APRS activity (http://aprsisce.wikidot.com/downloads).
Used hardware TNCs for VHF operation are often available at Swapmeets also.

The other packet system is operating on 145.010 MHz, primarily for connecting to WinLink VHF RMS (Radio Message Server) stations.
It uses the alias KPORT with a base callsign of K7PVA.
As with the APRS system, you need a TNC (hardware or software) as well as the WinLink Wxpress software.
Besides the Winlink operation, it has a Mailbox (K7PVA-1) for leaving local messages.
It can also be used as a common Digipeater or a Node (K7PVA-7) to connect to any other packet operators station.
WinLink Express includes a Terminal program (RMS Simple Terminal.exe) for direct connections to a local Mailbox or other packet stations.
A much better (and FREE) terminal program called CryptoTerm can be downloaded from the internet at: (https://cryptoterm.com/index.php?option=com_content&view=section&layout=
blog&id=15&Itemid=77&lang=en)
It is completely configurable for most any need and has many options including an FTP program that most hams would never need.

If you need further info or assistance just contact me by e-mail (good on QRZ and the club roster).
73 - WA5VRL - Willis