PARC MEETING NOTICE .. JUNE13
As a follow up to the soldering class, there was a lot of smoke being generated by 6 "learners" who are now "almost experts" .. for the June meeting we hope to have all the projects completed and have a hands on DEMO and smoke test of the projects..

Complete Program Details, are still being discussed,
Check back for details
We discovered that reading schematics was a bit of a trick as well as
identifying parts, SO , we may be presenting "how to" navigate
schematics, etc. how to identify parts, and read a VOM all in one
big presentation, that presuming I can convince the bod, STAY
TUNED IN, more info coming



This year , as we have the last several years, we will start setting up
at around 9am, Elborn will be bring his tower trailer and we will be
setting up our 3 element beam also several other antennas
will be deployed , at least three stations, of various types, QRP,
Buddy Poll antenna.. G5RV and the Clubs station, plus one
other rig for on the beam.
FieldDay officially starts at 12 noon, we should be ready, and everyone
is invited to OPERATE.. this is a "low pressure" event .... a good place
to get on and push the PTT button, and breath a little easier after two or
three Q's
then at six pm the FieldDay dinner will commence, please bring you other half, in most instances that means your wife ! This is family time,
we will have barbeque(s) to cook on, bring you own main dinner, hamburgers , hotdogs, what ever you like to cook and a (un)COVERED
dish to share with others, bring you own drinks , don't be late,
everyone, come and have some Ham Radio Fun. Theres lots to do,
and losts of casual talk for .
more info as we get closer FD is June 22.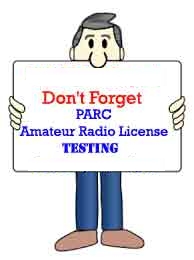 Here are the results of the testing Saturday. We had 8 people take the test for the Technician class license. Seven (7) of the candidates passed their exam and earned a Technician class license. No one took the General class license. Two of the candidates had licenses in the past that expired. Both of these candidates will be upgraded to a General class license when their paperwork reaches the FCC.



I want to thank all the VE's that helped make the testing possible
Dick WA7VKE; Will KM5F; Elborn KA7MLM; Dave N7TZK; Paul W7EKG. Without their help there would be no testing. THANKS VE's.

Mike Vaughn WB7DNU, results for May11 testing,


things to think about, during the Feb meeting we ask those in attendance,
what there want to see in programs , heres a list,
Survey tallies below.
| | |
| --- | --- |
| Subject requested | Votes |
| Soldering - hands on ---- May meeting | 3 |
| Digital modes | 2 |
| Antennas, feedlines. Baluns | 1 |
| Rig Control | 1 |
| CW and Computer CW | 1 |
| Used Equipment: Radios, Test Equip | 1 |
| Radio Power Supplies | 1 |
| Setup - First Radio Station, April meeting | 1 |
| 2M antennas IE J-Poles | 1 |
| Repeater use/demonstrations | 1 |
| Who and what are Elmers | 1 |
| How to crossband Repeater setup using your mobile/handheld | 1 |
| Toroids | 1 |
| Antennas Modeling | 1 |
| Yagi Antenna | 1 |
| Emergency Comm | 1 |
That's quite a list, however, the Board is planning to cover many
of these this year.

Your assistance is requested
The PARC Board is looking for NEW ideas for club
programs. we're happy to cover the same topics every
several years. BUT We're sure some of you newer hams
have some great ideas we have overlooked, WE request
your presents and ideas at our meetings..
Please attend our meetings !
Everyone, licensed or not, members or not are always
welcome at our meetings,



Fire in the 147.36 Repeater Building
destroys KUER FM translator and covers
our equipment in soot,
it took a lick'n and it's still Ticking ,, (think I've heard that somewhere before )
it appears the 29.6 10 meter link survived the smoke too.
thats 29.6mHz.. FM

LINK to fire pictures,
A note about who can use 29.6mHz, Below is an excerpt from an FCC ruling about
the mater of Technicians operation on 2 meters through a 10 meter remote system.



So every licensed ham , using our system, can talk on 10meter FM..
to insure its turned on, press 0 1 0 touchtone, The repeater will
say 10 meter FM link active. , listen for a while, then you might call CQ a few times.
NOW, how about a tip?.. once you contact someone of 10 meters have something
to say. tell them your name, you QTH, that's where you live, like Blackfoot ID.
and something about your radio, like working them through a 10 meter link on
the local 2 meter repeater, how well your hearing them ,, etc

expect QSB, Fading in and out, 10 meters has a lot of QSB, especially on FM
so you might not hear everything the other station said, and they might not copy everything you said, so make an attempt to repeat if you don't think he got your comments. He cant read your mind, tell him you didn't copy, or solid copy ...

Just assume that if your having trouble hearing him, that he is having the same problem
hearing you, sometimes it fading, sometimes other stations interfering.
sometimes, the "path" just disappears, END of QSO, maybe 10 minutes later
the same station comes back in, you might want to try to finish your QSO..


when will 10 meters be active.
Sporadic E propagation, usually between 600 and 1200 miles. 10 to 1 in the spring
you will be talking via E skip.. WHEN, hard to say, best thing to do is leave your radio on, listen, talk to locals, and when the band does open, turn your attention
to the skip. Sporadic E is well Sporadic.. you've got to be there when it happens.

We are fast approaching the E season, May & June.. be ready
Remember, the band is dead if your radio is off !! So keep listening, be ready

WELL ITS STARTING TO HAPPEN. I'm referring to E skip


on Mothers Day, I worked (via the 36 repeater) a mobile station in Windslow AZ, heard two other W6 stations. it was at 10 am for maybe an hour, , all signals were fading in and out of the repeater, over that hour .. this is a update to the above story. Also another Pocatello ham worked the same guy on 6 meter SSB.
GOT 'a HAVE THE RADIO ON !! last night Monday 14, Late 10 meters was open
to the west coast, didn't get anyone of FM , but SSB was easy pickin's ..

personal note, from kØip, I've been on 10 FM since the late 1970's , there was a
conversion article in 73 magazine, how to convert CB radios to 10 meter FM, and
many of my friends did get on 10M using one of those contraptions ,
in 1978 I converted a old GE Pre-Prog, all tube radio to 10 meters. (FYI, I've still
got it) . great fun, especially at the peak of a solar cycle,
too bad, we are at the bottom now. That doesn't totally spell disaster, E skip
still happens, mostly in the evenings. But any time is possible..
NOW, If I hear the repeater come to life with DX, you bet I will be in
there attempting to contact them.. Our 10 meter link actually works very well.
One night some years back I worked Art Bell, famous night time talk radio
personality , via our repeater.. AND last year there was a surprising amount of E skip
happening for several months.. Lots of contacts , but I didn't hear anyone except myself and one other Pocatello Ham using the system, its free, give it a try..



ADVANCED NOTICE: This is close to Pocatello and should be well
worth going to, this will probably be one of the biggest conventions in our area.
The ARRL Rocky Mountain Division Convention comes to
Ogden Utah
August 8th, 9th, and 10th
Registration is now open at the website
www.rmdc2019.org
. More
than 1200 are expected to attend this year's convention.
Bob Heil K9EID, CEO and founder of Heil Sound and host of the
Ham Nation podcast, will be the keynote speaker on Saturday
August 10th. Howard E. Michel the CEO of the ARRL will be the
Friday keynote speaker.
The convention will feature vendors, forums, a swap meet, test session,
a special event station, the infamous Wouff Hong, and much more. You
can register and learn more by visiting
www.rmdc2019.org
.

Ham RadioTailgate Swap


to be held in Rupert, Idaho this summer.
at the Minidoka County Fairgrounds in Rupert, ID
Saturday, August 24, 2019 9:00 AM-1:00 PM......Flyer is attached