I know its a real PAIN to figure out the FCC's URL system .. in fact it's almost impossible,


Heres how to Get a copy of your license, or RENEW, or UPDATE your license information.
IF you never logged into the ULS system, you probably need to get a login and password (do it) ?????????


1. if you know your FCC Registration Number (FRN) go to step 4 otherwise continue to #2 FYI: its printed on your license...
2. go to this http://wireless2.fcc.gov/UlsApp/UlsSearch/searchLicense.jsp put in your call , Click Search !!

3 next screen, get your FRN . either write it down or copy and paste
ok YOU KNOW YOUR FRN,
4. now go to https://wireless2.fcc.gov/UlsEntry/licManager/login.jsp and enter your FRN and password,,


(d) login if you don't have a login... create one if you forgot your password "reset" it https://apps.fcc.gov/coresWeb/enterFrnForPwdReset.do
Lets assume your login !!!
(e) OK, your logged in,
(f) you should see you call sign,
(g) To download your Official Copy (license) FIND download your official electronic authorizations here."
(h) it will be in a green box across the top part area the page.
(I) click the word here to Download a Official Copy of your LICENSE.

OK, want to renew,, or Update your info with the fcc , this is the place,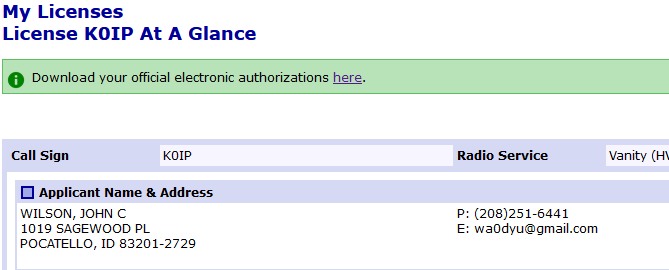 MAKE SURE YOU GET ALL THE WAY TO END OF THE PROCESS,,, ITS A BIT DECEPTIVE, MAKE SURE YOU GET TO THE END, IT SEEMS IT WAS A 2 OR 3 PAGE PROCESS ??